last night i got to see Young Frankenstein at the Detroit Opera House FREE!!!! And it was AMAZINGLY FANTASTIC!!!!
Roger Bart was the lead as he was FABULOUS!!!!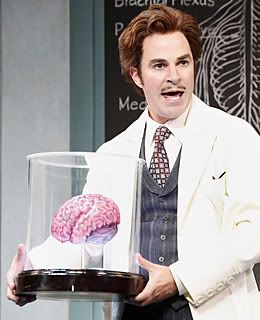 That was the first time I've seen a famous actor in a role in a show in Detroit. I was star struck!!! I am so madly in love with him now!!!!
I wish I could have taken pics, but we weren't allowed. I tried to take a couple with my cell but they were sucktastic even tho we were only FIVE ROWS FROM THE STAGE!!!!!!
and now excuse me while i get ready for darts and jello shot making tonight.
xoxoxox